How to Recognize and Avoid Robocalls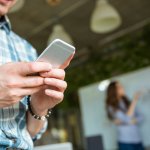 Sometimes it can be difficult to tell the difference between a trustworthy telemarketer and a scammer who uses the phone to lure people in. With the help of internet software, callers are able to operate from just about anywhere in the world, and the phone number coming through looks local and legitimate.
A report published by Pindrop Security, a company providing solutions to protect enterprise call centers and phone users, reviewed phone fraud activity affecting financial institutions, retailers, and consumers in 2016-2017. Their report found that across financial and retail institutions, one in every 937 calls is fraudulent, which is an increase of more than 113% since 2015.
With regard to consumers, it was estimated that approximately 11% of U.S. consumers reported that they lost money to a telephone scam in 2016, with the total loss at approximately $7.4 billion.
Pindrop reported the Top 40 scam campaigns of 2016. The most popular involved Google/business listing scams, followed by loan related scams, free vacation calls, political campaign calls, local map verification calls, and "lower your electricity bill" calls.
Evolution of robocalls
Robocall scams have certainly evolved over the years. Calls that were once easy to detect with the help of caller-ID, have now turned into calls coming into your cell phone with the same area code and first three digits as your own phone number. Even millennials, who are more savvy with technology than older generations, are being targeted with these calls, and many falling victim to the scams.
In April, 2017, the Better Business Bureau put out a fraud alert to notify consumers of the "Can you hear me?" scam. Reported as the most popular scam by the Better Business Bureau scam tracker, fraudsters call consumers asking them if they can hear the caller. By responding yes, the scammer has now recorded the consumer's voice saying yes and can use that to authorize third-party charges on the consumer's behalf.
Due to the increased frequency of these calls, it is important to be aware of the different types of scams and know how to recognize the warning signs pointing to fraud.
Different types of scams
According to the Better Business Bureau, the following are several examples of common robocall scams:
Free or low cost travel packages: Promoters notify you by telephone that you have been selected for a "free vacation" or free airfare, etc. However, consumers have reported that these "free" vacations can end up costing a significant amount of money as the offer was misrepresented.
Payday loans: Ads offering cash advance loans to hold you over until you get paid. However, these short-term loans come at a very high price.
Exaggerated business and investment opportunities: Callers offering low risk, high return investments. They try to take advantage of people who do not research the investment opportunity, asking them to commit right away.
Urgent charity/donation requests: Callers asking for an immediate donation for recent disaster relief efforts.
Foreign lotteries: Scammers call and notify you that you have won a significant amount of money in a foreign lottery. However, they require you to pay money up front to cover processing fees and taxes.
Extended car warranties: Callers claiming to be representatives of a car dealer or manufacturer telling you that the warranty on your automobile is about to expire, urging you to sign up for an extended warranty.
Free trial offers: Companies offering consumers "free trials" of their products. But, if you look closely at the terms and conditions, most will charge you for additional product if you don't cancel within a certain number of days.
Robocalls are usually seasonal, and the type of scam is dependent on what's happening in consumer's lives. For example, during tax season, calls will target more IRS related scams; around election time, calls will be politically inclined; and as we saw earlier this year after the hurricanes, calls were related to charity and donation requests. This time of year, we see more scams related to holiday-related gifts and deals.
How to recognize a phone scam
Robocall scammers try not to give you the time to think about their pitch, but just want to get you to say "yes". The Federal Trade Commission ("FTC") released the following list of red flags to help consumers recognize a phone scam:
If the caller says you've been specially selected for the offer
They tell you that you'll get a free bonus if you buy their product
The caller informs you that you've won one of five valuable prizes
The caller says you've won big money in a foreign lottery
They tell you that the investment is low risk and provides a higher return than you can get anywhere else
The caller tells you that you have to make up your mind right away
If you happen to receive a call and suspect that it may be a scam, the FTC also recommends asking yourself the following questions to assist in determining whether or not the call is a scam:
Who is calling, and why? The law requires telemarketers to inform you that it is a sales call, the name of the seller, and what they are selling before they make their pitch. If you don't hear this information, just simply hang up.
What's the hurry? Most legitimate businesses will give you time and written information about an offer before you commit. If the person on the phone is using pressure tactics to get you to say yes right away, most likely it's a scam.
If it's free, why are they asking me to pay? Question any fees you have to pay to redeem a prize or gift.
Why am I confirming my account information, or giving it out? Some callers may have your billing information before they call you. They may be trying to get you to say yes so they can claim you approved a charge.
What time is it? The law allows telemarketers to call only between 8:00a.m. and 9:00p.m.. If the caller is ignoring this rule, you should say no thanks and hang up.
What can you do?
The website ScamDetector.com publishes a weekly top five list of the latest scams in every industry. This could be a great resource to check if you suspect you received a fraudulent call. It is also a good idea to put your number on the national "do not call" registry to stop most telemarketing calls. A good rule to follow is if you don't recognize the number calling you, it's better if you just don't answer it at all. If someone is trying to reach you, they will leave you a voicemail. You also have the option of easily blocking future calls from the number dialing into your cell phone. However, if you do answer, and suspect you are victim of a scam, you should report a complaint to the Federal Trade Commission.