Beware of "Storm Chaser" Fraud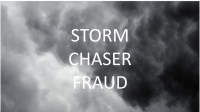 Following any natural disaster, we can expect there to be a significant increase in the risk of fraud-related activities. Known as "storm chaser fraud" or "disaster fraud", these crimes involve individuals claiming to be part of disaster relief efforts, looking to take advantage of those in the disaster zone or targeting those outside who are trying to help by donating money to the clean-up efforts.
After Hurricane Katrina in 2005, a Disaster Fraud Task Force was established to help with fraud-related claims from the storm. As a result of the efforts of this group, over 1,300 disaster fraud cases have been prosecuted in connection with Katrina. While that seems like a large number, the government is still unsure of the extent of the damage from fraud-related schemes stemming from that storm.
From the initial Task Force, a more formal organization was formed to help detect, prevent, investigate, and prosecute fraud related to natural and man-made disasters. Since 2005, the National Center for Disaster Fraud ("NCDF") has received over 70,000 complaints involving over 50 natural and man-made disasters.
Types of natural disaster fraud schemes
Fraud schemes related to natural disasters can be broken out into three different categories:
Charitable solicitations – this category involves individuals soliciting donations on behalf of an organization for disaster relief efforts. This could involve fake websites, e-mail scams, or phone calls. According to the FBI, immediately following Hurricane Katrina, there were over 4,000 Katrina-related websites formed, of which, the FBI presumed at least 60% to be fake. One specific case from Hurricane Katrina involved two men who registered a fake Salvation Army domain name, using it to collect nearly $50,000 in donations.
Contractor and/or vendor fraud – this scam is designed to steal money by offering sloppy or incomplete repairs. Even legitimate contractors who complete the job have been noted to drastically increase their prices to take advantage of the situation.
Price gouging – Prices are significantly inflated because fraudsters know people will pay it to get the services or goods they need. During Hurricane Harvey, there were reports that consumers were being charged up to $99 for a case of water, hotels were tripling and sometimes quadrupling their prices, and fuel was costing from $4 to $10 per gallon.
As we are now in aftermath of Hurricane Harvey, Irma, and the earthquake in Mexico, we must be aware of the potential scams that are out there. By understanding the warning signs, you can protect yourself and the many communities that have been severely affected by these disasters.
What are the warning signs?
It can be easy to overlook the warning signs of a fraud-scheme after a natural disaster occurs. The main concern is assessing the damage, and determining what the clean-up process is going to look like. The following are some red flags to be aware of:
An organization using a temporary office or P.O. box address
Out-of-state phone numbers
Out-of-state license plates for contractors and/or repairmen
Individuals staying in a hotel
No local references
Don't know your area
Pressure to rush and sign a repair contract
Required to pay cash up front
Charitable solicitations showing up on social media
Unsolicited phone calls and e-mails
Websites that have popped up since the disaster occurred
Phone calls or e-mails coming from individuals claiming to be a victim
How to protect yourself
Being familiar with the warning signs noted above will be extremely beneficial in protecting yourself from disaster related fraud schemes.  In addition to this, the following tips could be helpful:
Visit the National Storm Damage Center website, which helps to connect individuals with certified contractors for repairs.
Get two or three estimates before choosing a contractor.
Avoid hiring someone out of the phone book.  Try to get a referral.
Use a local company you've used in the past, if possible.
Check the Better Business Bureau once you think you have a contractor you can trust.
Never open emails purporting to show photos of disaster areas as they may be viruses or hackers looking to steal your information.
Donate to national charities or local organizations that you are familiar with.
Avoid giving cash donations. Pay by credit card or check.
What to do if you suspect fraud
In response to Hurricane Harvey, the attorney general's office created a hotline to report suspected fraud. After only four days, the hotline had received approximately 550 Harvey-related fraud complaints.The NCDF operates a call center 24 hours a day, 7 days a week to take complaints over the phone (1-866-720-5721). They also have an e-mail address (disaster@leo.gov). Once a complaint is received, the investigators review the information and refer complaints to the appropriate federal, state, or local agency.
During a time when those affected by storms need the most help, there are perpetrators out there waiting for the moment to take advantage of them. Taking the time to think twice and take a closer look at where your money is going could save you in the end.